Culture of Shisha in Abu Dhabi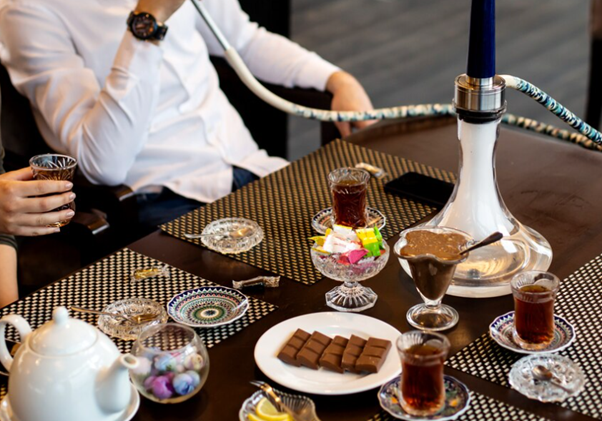 In Abu Dhabi, there are numerous outdoor and indoor shisha establishments. We've picked together some of the best in town, with excellent service, shisha, and atmosphere. Drop by some of the best hookah cafes in Abu Dhabi for a relaxing evening.
Shisha Café in Abu Dhabi
Most shisha cafés will have at least 10 types of shishas to choose from (often more), comprising unflavored mixtures as well as fruit-scented combinations like apple, lemon, and grape—far easier on the throat and far more aromatic than Western cigarettes.
What is the Legal Age for Shisha in Abu Dhabi?
Visitors who are over the legal smoking age may try shisha (in Abu Dhabi, this is 18). Shisha, Arabian-style tobacco smoked in one of the characteristic waterpipes (hookah, narghile, or "hubbly-bubbly") common throughout the Middle East, rounds out the typical Arab dinner. Shisha cafés in Abu Dhabi are extremely popular (although surprisingly rare in Oman). While many restaurants provide shisha, according to the UAE's smoking ban, it can now only be served outside or in separate smoking rooms.
About Shisha in Abu Dhabi
Shisha is the name given to a type of tobacco pipe in which smoke is passed through a container of water before being inhaled. But first, you might be wondering if shisha is permitted in Abu Dhabi. So, the answer is yes, but only legal establishments, such as pubs and lounges, can serve shisha in Abu Dhabi. Shisha has been prohibited for the last year, beginning in 2020, to prevent the spread of COVID, but it is currently available in Abu Dhabi.
Enjoy the Shisha in Abu Dhabi
When it comes to shisha in Abu Dhabi, the most crucial characteristic is kindness. Enjoying shisha has been viewed as a social event for generations, with meals eaten with tremendous warmth around the table or, in the early days, beneath the cover of Bedouin tents under a blanket of stars. By staying in our hotel, you may still enjoy old-world hospitality and authenticity in our executive suites.
Keeping with the Arabian atmosphere, our balcony, constructed to the highest standards, is ideal for a laid-back shisha evening under the stars and archways of Abu Dhabi. Make yourself at home in this majlis-style seating area, complete with Bedouin tent pattern cushions and Arabian lights. Serving a selection of Arabian foods, including hot and cold mezzes to share with your friends, as well as Arabic tea and many unique flavored shisha in Abu Dhabi.
Is Smoking Prohibited At Shisha Café İn Abu Dhabi?
Smoking is allowed at cafés in Abu Dhabi. Shisha smoking, also known as narghile, water pipe, hookah, or hubble bubble smoking, originated in the Middle East and certain areas of Asia but has recently gained popularity in the United Kingdom, particularly among young people. It is a method of smoking tobacco through a bowl connected to a hose or tube. The tube features a mouthpiece via which the smoker inhales the smoke.
Shisha is typically made from tobacco, which is sometimes combined with fruit or molasses sugar. Apple, strawberry, mint, and cola are among the most popular flavors. To heat the tobacco and produce smoke, wood, coal, or charcoal are used in the shisha in Abu Dhabi.
Can You Smoke in Abu Dhabi?

Any visitor or resident of conservative Abu Dhabi or UAE has many questions about smoking. This is insider information on often asked issues such as whether smoking is permitted in Abu Dhabi or the United Arab Emirates, what smoking restrictions exist, and where you can and cannot smoke.
Cigarette, e-cigarette, vape, and shisha smoking are permitted in Abu Dhabi for adults over the age of 18. Smoking is permitted in public locations such as streets, homes, cars, designated hotel rooms, pubs, and nightclubs, but not in malls, taxis, or parks. Smoking is forbidden in public locations from dawn to sunset during Ramadan.
Is Shisha Allowed in Abu Dhabi?
Shisha smoking is only permitted at Shisha cafes in Abu Dhabi. Shisha smoking is prohibited in public places, private cars with children under the age of 12, houses of worship, educational institutions (such as universities and schools), health facilities, and sports facilities. The Abu Dhabi Municipality prohibits smoking shisha in parks, beaches, and other public recreational places. It also forbids pregnant women from entering shisha cafes, regardless of whether or not they intend to smoke.
Try Shisha in Abu Dhabi
I would recommend trying shisha in numerous Abu Dhabi cafes before purchasing your own. Small 'memorabilia' shisha pipes are about as useful as a chocolate fireplace. Don't be tempted to purchase anything that the cafes would be embarrassed to display. And keep in mind that preparing a shisha requires a lot of technique. My next article might go through how to do it at home. But there's no need to rush, is there?
How Do You Smoke a Shisha in Abu Dhabi?
You may be wondering what you're smoking. Naturally, you can put any smokable substance into a shisha pipe at home, but commercial facilities will only provide tobacco shisha cafes in Abu Dhabi. Tobacco is mixed with molasses, glycerin, rose, grape, and other extracts. The charcoal is not in direct contact with the tobacco; a perforated metal foil separates them (though some traditionalists dispense with this). It's the only way. It's a massive piece of equipment, and painting on it with your cheeks isn't going to cut it. You've got to inhale. This is what we're doing tonight for an hour or two, and it's possible we won't do it again until next weekend or the weekend after that. Feel as guilty as you want, but enjoy yourself. Life is already far too brief.
Are The Smoking Rules in Abu Dhabi and Dubai Different?
Although Abu Dhabi and Dubai have different rules in many cases, as far as smoking is concerned, both cities and emirates follow the same rules. Therefore, all the information stated here holds true for both Abu Dhabi and Abu Dhabi.